By Sarah A LoBisco, ND
Definition of REFORM
According to Merriam-Webster:

Reform:
transitive verb
1 a : to put or change into an improved form or condition b : to amend or improve by change of form or removal of faults or abuses
2 : to put an end to (an evil) by enforcing or introducing a better method or course of action
3 : to induce or cause to abandon evil ways <reform a drunkard>
4 a : to subject (hydrocarbons) to cracking b : to produce (as gasoline or gas) by cracking
intransitive verb: to become changed for the better
We are currently in a major healthcare crisis; this is agreed upon by most. The best way to "fix" it is a hot topic for discussion.
Unfortunately the hope of uniting the public and medical community into a unified force has resulted in a reform debate creating schisms amongst politicians, people, and insurance companies. Arguments in the political arena are akin to watching a volleyball match between two teams with one focus-to win the game.
The goal of the game seems to be the bottom line of fulfilling a promise of change to allow access of medicine in an all-inclusive and low-cost insurance system. Practitioners and health workers are filling in the bench warming seats of the gym, because they are picked last for the team.
The result of the game is emotional exhaustion for average doctors as they are left scrambling and staring into computer screens with blogs providing "quick breakdowns" of the pros and cons of both sides.
Generalists and specialists alike, with already overloaded patient rosters, are forced to glance above their pile high insurance submittals, rejections, EHR mandates, IPods with drug updates, and medical journals to another full-time made part-time job at hand—politics!
No wonder there are such sad statistics in the US medical care system concerning errors in prescribing and why there's rumor of a primary care shortage!
According to an article reported by Reuters' and reviewed by health care maverick, Dr. Mercola:
Nearly half of U.S. doctors have at least one symptom of burnout; 30 percent have high depersonalization scores
Fatigue can erode professionalism, compromise quality of care, and increase medical errors
The entire system seems to set the physician up for burnout, from exhausting medical internships and residencies to heavy financial burdens, long work hours making serious, oftentimes life-and-death decisions, along with loss of autonomy in treatment choices and dwindling reimbursement rates
An obvious side effect of doctor burnout is medical errors. One 2010 study revealed that 18 percent of patients were harmed by medical care and over 63 percent of the injuries could have been prevented. In nearly 2.5 percent of these cases, the problems caused or contributed to a person's death. In another 3 percent, patients suffered from permanent injury, while over 8 percent experienced life-threatening issues
While there are no easy answers, one obvious alternative is to minimize your interactions with the conventional system – primarily because most conventional treatment strategies in no way shape or form address the underlying cause of your disease
What the public may not realize is that many in healthcare are frightened with all the debate. (Recently it seems that every week in Medscape, one or two articles with healthcare reform are making the top news).
Questions that arise in the caring doctors minds seem to be:
What will this reform mean to how one will provide medicine?
Will it affect scope of practice, who will be reimbursed, and who we can provide care for?
Will quality of care be better or will providers be forced to run faster meeting more demands?
Will the focus be on working for the numbers vs. creating healing therapeutic relationships on both sides?
Some argue that with incentives for performance, quality of care will be better.
Still, the reimbursement reward for performance is decided by an outside forces that:
Don't know the patient
May have no knowledge of what was discussed in the office visit (other than what was mandated to be discussed for standard of care)
May have no medical background but base their decisions on opinions and output.
As Dr. Hyman recently wrote in his blog,
While individual mandate and insurance reform are the main focus of the debate surrounding ObamaCare, little known but potentially transformative provisions of the Affordable Care Act provide the seeds of change for our entire health care system.
These provisions, the National Diabetes Prevention Program (section 10501), Prevention and Public Health Fund (section 4002), creation of community health teams (section 3502), and incentives for states to prevent chronic illness among Medicaid beneficiaries (section 4108), could stem the tide of chronic disease.
There is no lack of pilot programs, demonstration projects, and examples of the success of intensive, community-based lifestyle programs to improve health care outcomes and reduce costs.  Current provisions for payment and innovation within the health reform bill set the stage for expansion of these programs. (Bold emphasis mine)
The focus of any reform shouldn't just be about the bottom line in savings but investment into programs that will reduce costs, aid in prevention, and improve outcomes rather than solely on arguments around insurance premiums and affordability.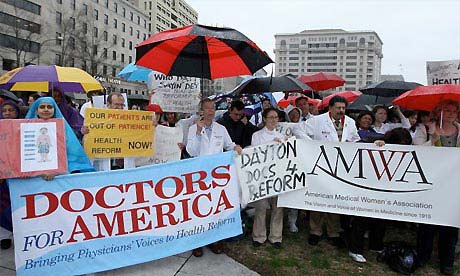 Does anyone see the irony of access to "quality of care" with poor outcomes?
And, is forcing insurances to spend less money to pay employees or advertising really going to improve the delivery of quality of care?
What about focusing on the implementation of and continual creation of pilot programs and community based support medicine to ignite change?
According to an article in Huffington Post:
The health insurance industry protests that capping their profits does nothing to address rising prices for medical services and products. Health insurance companies refer to the difference between premiums collected and claims paid as the "medical loss ratio" and the Obama administration describes its new standard as the "80/20 rule."
I have the luxury of a holistic practice that isn't at the mercy of an insurance based system, but runs on the principle that health is as much as a priority as out of pocket payment for car service charges and traveling expenses. I can't help but get frustrated that most people are overly focused on getting premiums lower and allowing more access to a broken system with burnt out providers.
Most of my conventional colleagues agree. This is not why we came into medicine.
Sources:
Merriam-Webster 2012. Reform. http://www.merriam-webster.com/dictionary/reform. Accesed 9/6/12.
Mercola, J. Nearly Half of U.S. Doctors Struggling with Burnout. Mercola.com. September 3, 2012. http://articles.mercola.com/sites/articles/archive/2012/09/03/doctors-burnout-symptoms.aspx?e_cid=20120903_DNL_artNew_1
Frederik Joelving. Nearly half of U.S. doctors struggling with burnout. Reuters Health. 8/20/12. http://www.reuters.com/article/2012/08/20/us-doctors-burnout-idUSBRE87J0RJ20120820?feedType=RSS&feedName=healthNews&utm_source=feedburner&utm_medium=feed&utm_campaign=Feed%3A+reuters%2FhealthNews+%28Reuters+Health+News%29
Jeffrey Young. Health Care Reform Rebates For Health Insurance Costs Rolling In. Huffington Post. 07/16/2012. http://www.huffingtonpost.com/2012/07/16/health-care-reform-rebate_n_1676964.html
The 80/20 Rule: Providing Value and Rebates to Millions of Consumers. HealthCare.gov. July 21, 2012. http://www.healthcare.gov/law/resources/reports/mlr-rebates06212012a.html
Hyman, M. Why ObamaCare is Not Enough: It's the Health Care Costs, Stupid! drhyman.com. June 29th, 2012. http://drhyman.com/blog/2012/06/29/why-obamacare-is-not-enough-its-the-health-care-costs-stupid/
DeNoon, D. Infant Mortality: U.S. Ranks 29th: U.S. Ties Slovakia, Poland for 29th Place in Infant Deaths. In: WebMD Health News. Reviewed by Chang, M. October 2008. http://www.webmd.com/parenting/baby/news/20081015/infant-mortality-us-ranks-29th
Murphy, S, Xu, J, & Kochanek, K. Deaths: Preliminary Data for 2010. National Vital Statistics Reports. 60:4 [online]. Atlanta, GA :Center for Disease Control and Prevention: Division of Vital Statistics. January 2012. Available at: http://www.cdc.gov/nchs/data/nvsr/nvsr60/nvsr60_04.pdf. Accessed July 2012.
National Center for Health Statistics. Fast Stats. Leading Causes of DeathHyattsville, MD: Center for Disease Control and Prevention. January 2012. Available at: http://www.cdc.gov/nchs/fastats/lcod.htm/. Accessed July 2012.
Center for Disease Control and Prevention. CDC Grand Rounds: Prescription Drug Overdoses — a U.S. Epidemic. Weekly. January 13, 2012 / 61(01);10-13. Atlanta, GA: CDC Morbidity and Mortality Weekly Report (MMWR). Available at: http://www.cdc.gov/mmwr/preview/mmwrhtml/mm6101a3.htm. Accessed July 2012.
National Conference of State Legislatures (NCSL). State Initiatives to Avoid Prescription Drug Errors : Several laws enacted and bills considered anticipate problems and use state powers to provide some solutions, 2003-2008. Updated: January 2009. Denver, CO: NCSL: 2009. Available at: http://www.ncsl.org/issues-research/health/state-initiatives-to-reduce-medication-errors-ncsl.aspx. Accessed July 2012.